Parts of a Roller Shutter
Before you make your choices take a quick look at the diagram below, so you are familiar with the key parts that make up a modern roller shutter.
Header Box
This is the box at the top of the roller shutter that stores the shutter when it is retracted and not in use. It contains the motor that operates electric (mains powered) or battery powered shutters and contains the axel around which the shutter is wound. All header boxes have a square profile and are made from 0.9mm gauge high-grade aluminium.
Slats
These are the individual slats that form the protective curtain over the window. All our slats are made from a double-walled aluminium cavity and which is then injected a dense foam core, which provides superior insulation, noise reduction and strength. *Please note our Bush Fire Shutters do not have a foam core
Guide Rails
These are the high strength aluminium channels at either side of the modern roller shutter which keep the slats in place and supports the header box. Guide rails area always colour matched the header box for maximum visual appeal.
Bottom Bar
This is the bar at the base of the shutter that comes in contact with the window sill.
Roller Shutter Types
Before you measure your roller shutters you need to know what type of shutter you want, where
you want your roller shutters Australia and how you want to control it.
All our shutters are built to withstand the harsh Australian climate and made from premium quality raw materials. Our stunning domestic roller shutters cost will suit the majority of shutter
applications for homes in Australia. In addition to our domestic DIY roller shutters Adelaide, we have a range of speciality shutters to suit special applications including bush fire shutters, cyclone shutters and commercial shutters.
Your shutters come fully assembled all you need do is attach the head-box and guide-rails to
wall/window on a standard installation.
Domestic Roller Shutters – Cost effective DIY roller shutters
Domestic roller shutters in Australia offer a highly versatile and cost-effective solution for the majority of
homes. They come in a stunning range of colours 15 colours to match in with any décor and are highly versatile.
Each slat is 40mm high and 9mm thick with a dense PU foam core providing excellent strength,
durability and insulation properties. Suitable for windows of up to 7.7m 2 they are suitable for most sliding doors and window sizes found in Aussie homes. They can be used on large windows up to 3.6m wide and can be made in heights of up to 4.4m high.
Max Window Width – 3.6m
Max Window Height 4.4m
Max SQ.M – 7.7
Weight per Sq.m – 4kg
Gauge of Aluminium – 0.32mm
Slat Height – 40mm
Slat Thickness – 9mm
Bushfire Roller Shutters – Keeping your family safe and protected
If you live in an area at risk of Bushfires you may like to consider using our Bush Fire shutters.
These shutters have a 40mm slat height and are 9mm thick similar to our domestic shutters but have superior strength and performance to protect your home in the event of bushfire.
One of the key safety issues in a bush fire situation is that the intense heat can shatter the glass in
windows which may allow burning embers and intense heat to enter the home. Our Bush Fire
Shutters provide an excellent physical barrier protecting against extreme heat and burning embers.
The high strength aluminium used for the slats is x3 thicker than our domestic roller shutter range to withstand the effects of extreme heat. Our bush fire roller shutters have been extensively tested by CSIRO in simulated severe bushfire conditions. They are rated as BAL (bushfire Attack Level) 40 and can withstand a maximum radiant heat exposure of 40kw/m2 after 60 minutes with no ignition or flaming.
Bush Fire Rated shutters can be used for larger than average openings spanning up to 4.0m wide and can be made up to 3.8m high to accommodate openings of up to 12 square meters.
Max Window Width – 4.0m
Max Window Heights – 3.8m
Max Sq.M – 12
Weight per sq.m – 8kg
Gauge of Aluminium – 1.0mm
Slat Height – 40mm
Slat Thickness – 9mm
Cyclone Shutters – strength and protection in sustained and damaging wind conditions
If you live in area subject to cyclonic wind conditions you should consider our cyclone roller shutters. They are idea for closing off outdoor areas and offer a tough and durable solution against sustained and destructive high winds.
Just like our domestic shutters each slat is 40mm high and 9mm wide but the extra high strength in these shutters comes from the high-density foam core. With minimum flex these shutters offer
superior tensile strength to withstand a category 3 Cyclone conditions, and wind speed of up to 47m per second or 169 km/h.
In order to provide category 3 cyclone protection, cyclone shutters must be mounted using
restrained guides.
Cyclone shutters can be made in widths of up to 4.2m and can be made for heights of up to 4.2m.
The maximum size of cyclone shutters is 10 square meters.
Max Window Width – 4.2m using restraining guide
Max Window Heights – 4.4m
Max Sq.m – 10m
Weight per sq.m – 6kg
Gauge of Aluminium – 0.32
Slat Height – 40mm
Commercial Shutters – Increased security and protection large openings
With larger 55mm, and wider 11mm slats than our DIY domestic roller shutters, our commercial
roller shutter range is the perfect choice for large openings such as garage doors, large sliding doors and commercial doors.
Able to accommodate openings of up to 11.8m sq and spanning up to 4.2m wide our commercial shutter range is tough, durable and offers increased strength, security and protection for all windows and doors.
Max Width – 4.2m
Max Window Heights – 3.1m
Max Sq.M – 11.8
Weight per sq.m – 3.4
Gauge of Aluminium – 0.32
Slat Height – 50mm
Slat Thickness – 11 mm
Mounting Methods
Mounting your DIY roller shutters
Before you take any measurements, you need to decide whether you want the roller shutter
mounted on the wall or mounted inside the reveal/recess of the window. See pictures below for
illustrations
Mounted on wall
This is one of the simplest ways to measure and fit DIY roller shutters. With this type of fixing the header box and guides are fixed directly onto the wall outside the window frame.
This is suitable for all window and door openings. However, your window/door frames or handles extend beyond the wall you will need to use packers (link) when fixing your modern roller shutters.
Mounted in the window reveal/recess
With this mounting method, the header box and guide rails are mounted inside the external window reveal/recess.
This method requires precise measurements as there is no room for error. To mount the modern roller shutter in the recess you will require a recess depth of at least 40mm.
If your windows open outwards such as casement, awning or hopper windows it is recommended that you choose the on wall mounting method as the guide rails mounted inside the window recess could interfere with the operation of the window.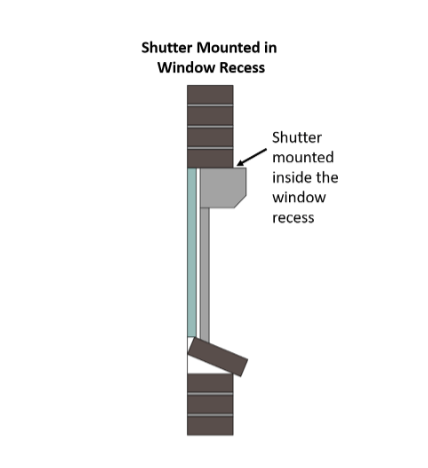 Control Types
Your DIY roller shutters can have either a manual or automated control.
The quickest and easiest method to operate roller shutters Adelaide is by choosing one of our automated options which are battery operated or electric. Our electric roller shutters need to be hardwired and require the services of a professional electrician.
Manual Control Types
DIY Roller Shutters – Manual Cord and Winder
Whilst our manual roller shutters are the most cost-effective type of roller shutter, they are by far the most difficult to install.
Our manual wind roller shutters are supplied with a cord that acts similar to the cord on a roller blind, however, due to the weight of the roller shutters, the cord needs to be wound using a crank handle on a wall-mounted winder.
DIY Roller Shutters – Manual Spring-loaded and key lock
No matter which type of roller you choose domestic, cyclone, bush fire or commercial you can
choose spring-loaded roller shutters for ease of use.
Each shutter is manufactured with a pre-tensioned spring tailored to the weight of the shutters to ensure a smooth gliding action. All spring-loaded shutters need to be key locked.
They are ideal for serveries and garage door type applications, however, they need to be operated from the front, so if they are on exterior windows they would need to be operated from the exterior of the building.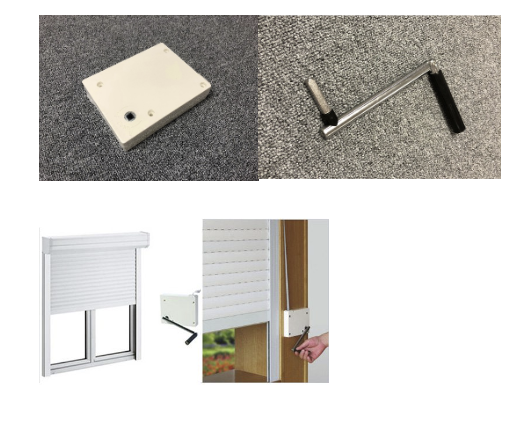 DIY Roller Shutters – Automated Control Options
Battery Operated Roller Shutters
By far the simplest and easiest method for DIY shutter installation is our battery-operated control systems. All Shutters4U products – Domestic, Bush Fire, Cyclone and Commercial roller shutters Adelaide have the same choice of controls.
Our battery-operated roller shutters are a simple DIY installation and do not require the services of a qualified electrician. And being battery powered your modern roller shutters will be operable in the event of a power outage.
Battery operated roller shutters are operated via a wall-mounted controller, but you can also upgrade to have an additional handheld remote control. The handheld remote control unit will control up to 9 different shutters and works in conjunction with the wall-mounted controller. Hence you will always need a wall-mounted controller even when using a remote control.
When upgrading to a handheld remote control please ensure that you select the battery controller for use with the handheld remote control. Handheld remote controls are ordered separately from the 'Extras' menu on the ordering page.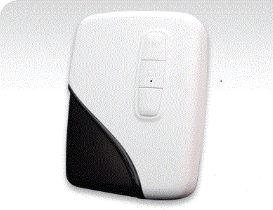 Wall-mounted control unit
All battery-powered control units are wall-mounted. Sleek and elegant they fit nicely onto the wall
and sit in a special dock.
The lithium-ion battery can be charged directly from the base of the docking station if there is a plug point located nearby or alternatively the unit can be removed from the dock and charged at your nearest powerpoint.
Optional Hand-Held Remote Control
For the ultimate ease and convenience, you can operate your modern roller shutters using a handheld remote control. Shutters4U hand-held remote-control unit for the working of rollers shutters in Adelaide operates using works using radio frequency technology and can be used to control up to a total of 9 different shutters from the comfort of your chair.
Electric powered (hardwired) Roller Shutters
Shutters4U electric (mains) operated roller shutters can be controlled via a wall-mounted switch or by remote control. If you have a handheld remote control you do not need a wall-mounted switch.
Electric wall-mounted switch
Electric roller shutters are quick and simple to operate using a wall-mounted switch. Simply press the button for up, down or anywhere in between.

Electric Handheld Remote Control
The operation of your electric roller shutters can be made even easier with the use of a handheld remote control. Shutters4U remote control option allows you the convenience of operating up to 16 different shutters from the one controller. Adding remote control to your shutters can be of great benefit to the elderly or anyone who has mobility issues as they enable you to operate your modern roller shutters from the comfort of your arm chair from any room within the house.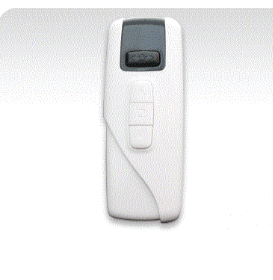 Electric Key Operated
Ideal for commercial operations or where an area needs to be locked down, Shutters4U provide a key operated control option. With both surface mounted or flush wall mounted keyed options you can easily secure an area and control who operates roller shutters.
FAQ