Your DIY roller shutters can have either a manual or automated control. The quickest and easiest method to operate roller shutters is by choosing one of our automated options which are battery operated or electric. Our electric roller shutters need to be hardwired and require the services of a professional electrician.
DIY ROLLER SHUTTERS MANUAL
DIY Roller Shutters – Manual Cord and Winder
Whilst our manual roller shutters are the most cost-effective type of roller shutter, they are by far the most difficult to install. Our manual wind roller shutters are supplied with a cord which acts similar to the cord on a roller blind, however due to the weight of the roller shutters the cord needs to be wound using a crank handle on a wall mounted winder.

DIY Roller Shutters – Manual Spring loaded and key lock

No matter which type of roller you choose domestic, cyclone, bush fire or commercial you can choose spring loaded roller shutters for ease of use. Each shutter is manufactured with a pretensioned spring tailored to the weight of the shutters to ensure a smooth gliding action. All spring-loaded shutters need to be key locked. They are ideal for serveries and garage door type applications, however they need to be operated from the front, so if they are on exterior windows they would need to be operated from the exterior of the building.
BATTERY OPERATED ROLLER SHUTTERS
By far the simplest and easiest method for DIY shutter installation is our battery-operated control systems. All Shutters4U products – Domestic, Bush Fire, Cyclone and Commercial shutters have the same choice of controls. Our battery-operated roller shutters are a simple DIY installation and do not require the services of a qualified electrician. And being battery powered your roller shutters will be operable in the event of a power outage. Battery operated roller shutters are operated by a via a wall mounted controller, but you can also upgrade to have an additional handheld remote control. The hand held remote control unit will control up to 9 different shutters and works in conjunction with the wall mounted controller. Hence you will always need a wall mounted controller even when using a remote control.
When upgrading to handheld remote control please ensure that you select the battery controller for use with a handheld remote control. Hand held remote controls are ordered separately from the 'Extras' menu on the ordering page.
Wall mounted control unit
All battery powered control units are wall mounted. Sleek and elegant they fit nicely onto the wall and sit in a special dock. The lithium ion battery can be charged directly from the base of the docking station if there is a plug point located nearby or alternatively the unit can be removed from the dock and charged at your nearest power point.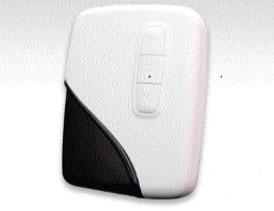 Optional Hand Held Remote Control
For the ultimate in ease and convenience you can operate your shutters using a hand held remote control. Shutters4U hand-held remote-control unit works using radio frequency technology and can be used to control up to a total of 9 different shutters from the comfort of your chair.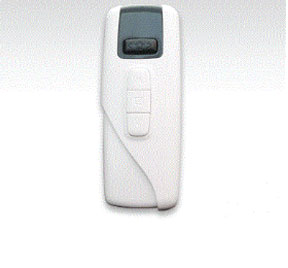 ELECTRIC POWERED (HARDWIRED) ROLLER SHUTTERS
hutters4U electric (mains) operated roller shutters can be controlled via a wall mounted switch or by remote control. If you have a hand held remote control you do not need a wall mounted switch.
Electric wall mounted switch
Electric roller shutters are quick and simple to operate using a wall mounted switch. Simply press the button for up, down or anywhere in between.
Electric Handheld Remote Control
Operation of your electric roller shutters can be made even easier with the use of a hand held remote control. Shutters4U remote control option allows you the convenience of operating up to 16 different shutters from the one controller. Adding a remote control to your shutters can be of great benefit to the elderly or anyone who has mobility issues as they enable you to operate your roller shutters from the comfort of your arm chair from any room within the house.
Electric Key Operated
Ideal for commercial operations or where an area needs to be locked down, Shutters4U provide a key operated control option. With both surface mounted or flush wall mounted keyed options you can easily secure an area and control who operates roller shutters.