By far the simplest and easiest method for DIY shutter installation is our battery-operated control systems. All Shutters4U products – Domestic, Bush Fire, Cyclone and Commercial shutters have the same choice of controls. Our battery-operated roller shutters are a simple DIY installation and do not require the services of a qualified electrician. And being battery powered your roller shutters will be operable in the event of a power outage. Battery operated roller shutters are operated by a via a wall mounted controller, but you can also upgrade to have an additional handheld remote control. The hand held remote control unit will control up to 9 different shutters and works in conjunction with the wall mounted controller. Hence you will always need a wall mounted controller even when using a remote control.
When upgrading to handheld remote control please ensure that you select the battery controller for use with a handheld remote control. Hand held remote controls are ordered separately from the 'Extras' menu on the ordering page.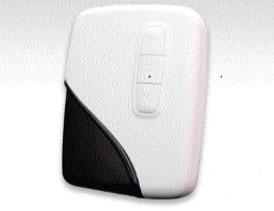 Wall mounted control unit
All battery powered control units are wall mounted. Sleek and elegant they fit nicely onto the wall and sit in a special dock. The lithium ion battery can be charged directly from the base of the docking station if there is a plug point located nearby or alternatively the unit can be removed from the dock and charged at your nearest power point.
Optional Hand Held Remote Control
For the ultimate in ease and convenience you can operate your shutters using a hand held remote control. Shutters4U hand-held remote-control unit works using radio frequency technology and can be used to control up to a total of 9 different shutters from the comfort of your chair.