Parts of a Roller Shutter
Before you make your choices take a quick look at the diagram below, so you are familiar with the key parts that make up a roller shutter.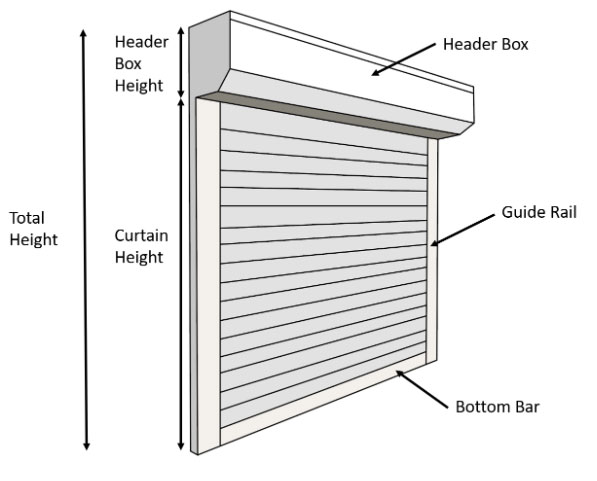 Header Box
This is the box at the top of the roller shutter that stores the shutter when it is retracted and not in use. It contains the motor that operates electric (mains powered) or battery powered shutters and contains the axel around which the shutter is wound. All header boxes have a square profile and are made from 0.9mm gauge high-grade aluminium.
Slats
These are the individual slats that form the protective curtain over the window. All our slats are made from a double-walled aluminium cavity and which is then injected a dense foam core, which provides superior insulation, noise reduction and strength.
*Please note our Bush Fire Shutters do not have a foam core
Guide Rails
These are the high strength aluminium channels at either side of the roller shutter which keep the slats in place and supports the header box. Guide rails area always colour matched the header box for maximum visual appeal.
Bottom Bar
This is the bar at the base of the shutter that comes in contact with the window sill.